Western Arizona, Part 2
Thanks to the confluence of open desert, a bombing range, several government agencies who may or may not talk to each other that much, the drug smugglers often operate in convoy. It is not unusual to discover strings of drug laden vehicles racing northwards from the environs of San Luis, Sonora and through the bombing range toward the major Arizona highway just a few miles north. Doing all of this high speed driving can be dangerous so the smugglers even do it in broad daylight.
This major smuggling basin — between the Colorado River and the low gray line of nearby mountains — is blocked at each end by USBP checkpoints.
The checkpoint at the eastern side of the valley has been placed just as you start to climb the low granite peaks — thus blocking off vehicular traffic trying to circumvent the checkpoint.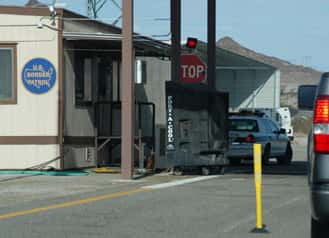 As you approach the checkpoint the whurr of the huge outdoor air conditioning unit is an impressive change to the sound of your car's engine.
While the Campbells Port-a-Cool only drops the local air temperature about 20 degrees, when it is 135 in the shade, 115 seems absolutely balmy.