Western Arizona, Part 3
On the western side of the basin, the Border Patrol checkpoint is far more active and drug sniffing dogs are there to sniff you as you pass. Cars soon to enter California are examined closely.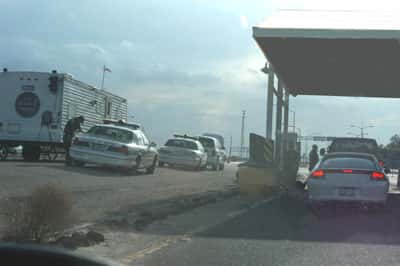 The narcotics that are smuggled through the Yuma area seem to be targeted to a more California clientele. The Border Patrol's attention is thus focussed on west bound travelers.
To slow this flood of drugs and gang members streaming north from San Luis, the USBP has let a contract to construct a vehicle and person barrier from San Luis, Sonora, Mexico and all the way to the boundary of the Barry M. Goldwater range.
The barrier tubes are at staggered heights to make it far more difficult to quickly put a ramp over the barrier and drive over it. That is a PEMEX gas station in the distance.