Eastern California Part 3
The far western border area is flat desert and prone to fast attack from the south. To limit the numbers of vehicles crashing the border, some substantial steel barriers have been placed just north of the border. When drug vehicles were still able to evade the barriers, a little imagination and a forklift closed off one narrow approach.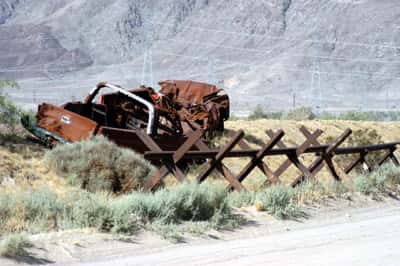 The start of the massive Laguna Moutain Range climbing 6,000 feet from the desert floor is in the background.
Because the USBP continues to receive far less funding than it needs, the drug smugglers continue to race north through this part of the desert.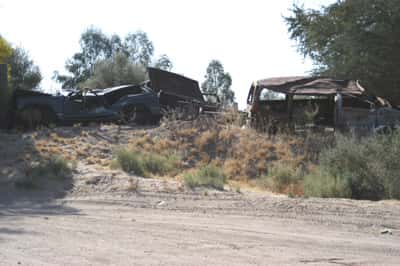 Lack of funding doesn't stop the imaginative Border Patrol from solving problems.
Here, you can see where several scrap motor vehicles have been dropped on top of another drug convoy access road into the United States.
The great Colorado River is but a few miles away and Mexico has built a massive waterworks to supply potable water to Tijuana more than 90 miles away. The water is pumped from the desert floor up and over the Laguna Mountains and into reservoirs in high mountain valleys.
The sky blue paint makes the huge pipe stand out agains the gray mountain. This system provides even half of the water to the border metropolis of Tijuana